Ehime University
Academic emblem, brand mark, mascot character
Outline of Ehime University
Goals and Plans of Ehime University
Organization of Ehime University
For those who are considering making a donation
Ehime University from the data
Ehime University Academic emblem
The design is centered on the letters of the university, with the five predecessor schools of the university likened to the five-leaf pine trees on Mount Ishizuchi and Ehime University (EHIME), which is trying to grow, on the outer side.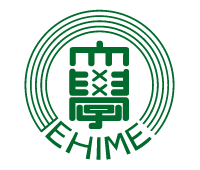 Brand mark, logotype, mascot character
In November 2009, Ehime University established a brand mark, logotype, and mascot character to commemorate the 60th anniversary of its founding and to promote the University's distinctive features, to make it more familiar to the local community, and to make students, faculty, staff, and alumni feel affection and pride.
Brand mark/logotype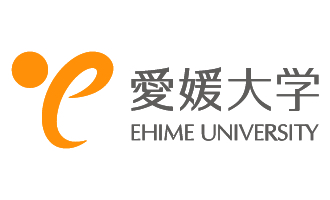 The brand mark expresses Ehime University's determination to become "Ehime's Knowledge Hub (Dot Ehime)," aiming to be "a university that shines together with the community. The circle on the left represents the sun, the "e" on the right represents a dynamic figure, and the entire mark represents a sprout that grows vigorously. The yellow color, reminiscent of Ehime mandarins, symbolizes cheerfulness and vivacity. The logotype is composed of sharp forms in both Japanese and European languages to make the kanji character "Ehime," which has a large number of strokes, appear simple.
mascot character
The mascot character is a combination of the initial "e" of Ehime University and Ehime mandarin oranges. The clear gaze and calm expression gazing into the distance indicate the rich future potential of these pure and naive young people. The nickname "Emika" is also a collaboration of Ehime and mandarin oranges, making it a perfect name for the smiling character.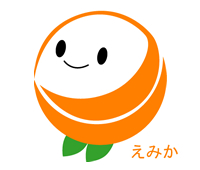 By continuing to browse the website, you consent to the use of cookies.
This website uses cookies. By continuing to browse the website, you are agreeing to our use of cookies.
Click here for more in formation on cookies.