With the goal of "fostering human resources with an international perspective," we focus on sending students abroad to study and study in other countries. In cooperation with related departments, we are implementing various initiatives to promote the dispatch of current students abroad, while also providing consultation services for students who wish to study abroad for an extended period of time.
Study Abroad Consultation
The company also focuses on educating Japanese students to become internationally active human resources, and has established a Study Abroad Counseling Office to provide study abroad counseling for students who wish to study abroad. In addition, every year around May, we hold a "Study Abroad Fair" where students who have studied abroad give poster presentations and talk about their passion for studying abroad.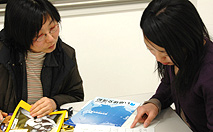 Short-term Overseas Training
Ehime University has a program to support students studying abroad through the Short-Term Overseas Study Program Support Program, and students who travel abroad under this program are eligible to receive scholarships from the university.
This program is planned by faculty members and invites students to participate.
The "Overseas Study Program," which provides language training and cross-cultural experiences, offers training programs of one to four weeks each year based on the key concept of "experience and dialogue," including "Korean Culture Training" and "Chinese Culture Training," and these programs are widely publicized with training information sessions so that students from all over the university can participate.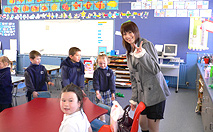 (1) Training programs for the entire university
 All undergraduate training programs are open to all Ehime University students, regardless of their academic year. Language training, cross-cultural experience programs, and language/experience programs that allow students to experience both, are gateway programs for developing an international mindset.
Program Example
Short-term language and cultural training (Korea, China, UK, Philippines, etc.)
Cultural training programs in Europe and the U.S. (Romania, U.S.A., etc.)
U.S. Cultural Experience Programs (Seattle, Louisiana, Chicago, etc.)
Intensive English Study Programs (U.S., Canada, Ireland, etc.)
Service Learning Program (Indonesia)
(2) Specialized Programs
Training and short-term study abroad programs are available in each department for upper-year undergraduates and graduate students who have received basic education in their respective departments to develop their competence in their field of specialization. In addition, long-term study abroad and exchange programs at the graduate level are also available.
Program Example
Overseas Engineer Internship Program (China: Faculty of Engineering, etc.)
Joint Research Participatory Program (Indonesia, Philippines, Korea, Taiwan: Faculty of Science, Faculty of Engineering, Faculty of Agriculture, etc.)
Overseas Educational Training Program (U.S.A., Philippines: Faculty of Law and Letters, Faculty of Education, etc.)
Field research (U.S.A., Australia, Philippines, Vietnam, Nepal, India, etc.: each department)
Long-term study abroad
Long-term study abroad not only requires language and academic skills, but also requires students to take responsibility for self-management, health care, and risk management in a foreign country with a different language and culture. You will often be forced into difficult and challenging situations, but these experiences will help you grow both mentally and personally. The greatest advantage of long-term study abroad is that you will not only gain knowledge, but also absorb a variety of things.
We have also begun to support students who have returned to their home countries after completing long-term study abroad programs.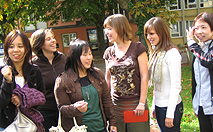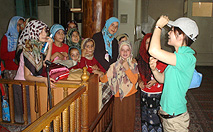 Responding to Risks of Overseas Dispatches
In order to minimize the risks that always accompany overseas study, we conduct a thorough orientation prior to overseas training and study abroad, distribute an "Overseas Travel Safety Management Kit" to ensure the safety of Japanese students, and hold "Risk Management Seminars" for students and faculty to raise awareness of risks within the university. We are also working on building a system within the university.
We create a safe and secure environment for students to study.
Recommendations for those viewing this page