Ehime University has formed the SUIJI (Six-University Initiative Japan Indonesia) consortium among six universities in Japan and Indonesia (Ehime University, Kagawa University, Kochi University, Gadjah Mada University, Bogor Agricultural University and Hasanuddin University). The program is a multi-tiered joint educational program spanning graduate and postgraduate studies.
The Faculty offers the SUIJI Service Learning Program (SUIJI-SLP) to foster SUIJI Servant Leaders (leaders who make dedicated contributions in their local communities) who have a global perspective and contribute to the creation of a sustainable future from the local level. In the program, students from six universities in Japan and Indonesia stay for about three weeks in rural villages in both countries and learn together, transcending differences in language, culture, and expertise, while tackling issues facing the local community.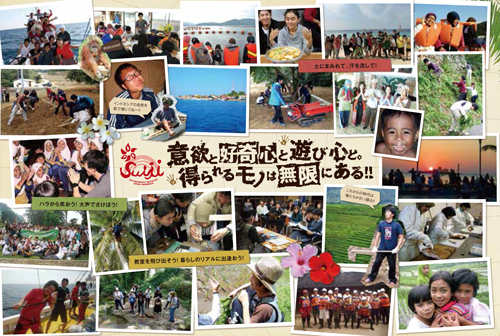 The SUIJI Joint Program (SUIJI-JP) for Master's and Doctoral Programs in Agriculture (Forestry, Water Cycle, Soil Science, Food Science, Plant Environmental Control, and Marine Production) allows students from both countries to take joint educational programs at the host university in the other country in six fields of education and research in agriculture (forestry, water cycle, soil, food science, plant environmental control, and marine production). This program allows students to take classes and receive research guidance from faculty advisors at both host and host universities.