Aikido Club
Join us and start a modern martial art, Aikido.
Beginners and women are welcome. Motivated people are welcome! Please come and visit us.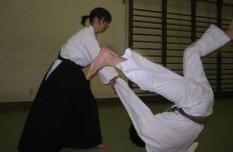 Aikido is a modern Japanese martial art with rationality and sophistication.
As one practices more and more, one's figure becomes more graceful and one's movements become more fluid, without any irregularity of breath, even while moving violently. As you continue to practice, your posture and behavior will naturally become more beautiful. Aikido is also suitable as a self-defense technique for women, and a harmonious and healthy beauty can be achieved without them even knowing it.
advisor
Takashi Okamoto
Student Representative
Daigo Kawasome (Captain)
number of members (e.g. club members)
8 boys, 5 girls
Active Time
Monday, Tuesday, Thursday 18:10-20:30
Sat. 9:30-11:50
Wed 19:00-21:00
*Schedules are subject to change depending on the coordination of the gymnasium.
Place of activity (name of facility)
Mon, Tue, Thu, Sat: 2nd Gymnasium 1st floor, Wed: Munda Dojo
Club fee (monthly)
1,000 yen
circle box
Extracurricular Activities No. 2 Common Facilities
Where to apply to join the club
Please come to the training location when training is being held at the university.
If you would like to join the club for a trial, you can also join if you come to our practice location.
Circle Homepage