2022.12.16
Social Studies Lesson Design for Developing Sovereignty through Cooperation and Collaboration between Schools and Local Communities
※The content is current at the time of writing.
Faculty of education / Associate Professor Masayoshi Inoue / 専門:Social Studies Pedagogy
Exploring the Interest of Social Studies Teachers as Professionals
Research Overview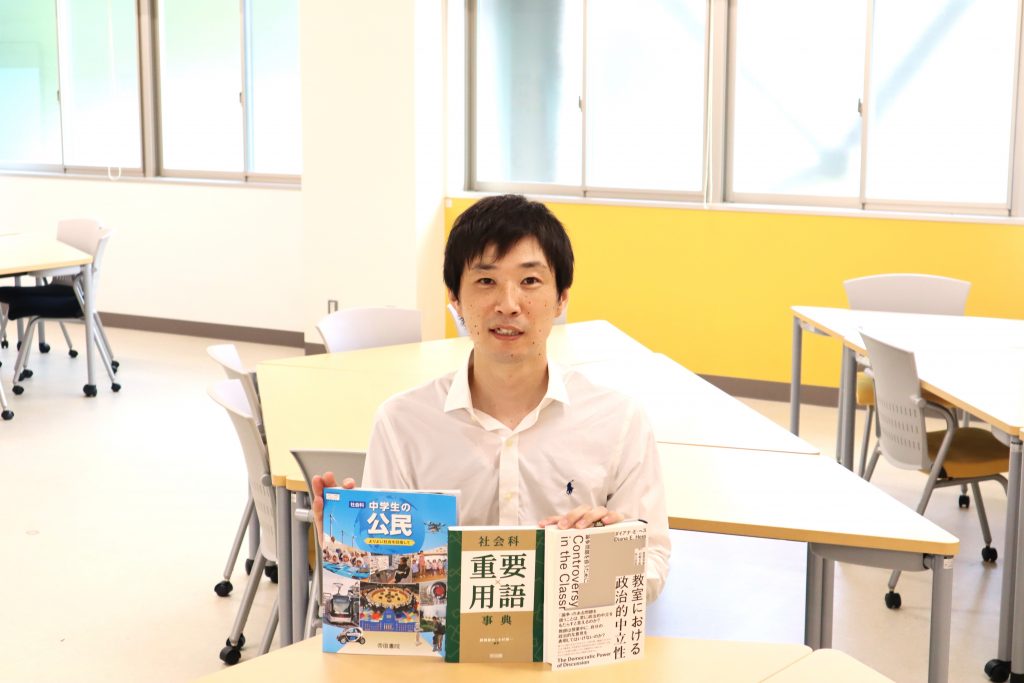 My specialty is social studies pedagogy. Social studies pedagogy is the study of what makes a good social studies class. What kind of social studies classes have you found interesting?
When we asked Ehime University students, many of them answered that they enjoyed "social studies classes in which we discuss and debate social issues with others. When asked why, many of them responded, "Because I could learn about different opinions from my own. This shows that many children find meaning in dialogue and discussion with others about issues and problems in society. Have you ever exchanged opinions about social issues with people outside your generation? Even if you want to exchange opinions, you probably do not have many opportunities to do so.
What will be required in the future society is people who can communicate across generations and positions and promote problem-solving, i.e., sovereign people. Therefore, in school education, it will be necessary to design classes in which people of various generations and positions engage in dialogue and discussion about social issues through cooperation and collaboration with the local community.
In light of this, I am engaged in research aimed at proposing methods of collaboration between local communities and schools to enhance sovereignty education and social studies education at school sites.
Research Features
In FY2020, this study created a "Citizenship Lab" that will serve as a platform for school officials and outside experts to share what they are working on in order to elucidate ways to collaborate between local communities and schools to enhance sovereignty education and social studies education.
By sharing classroom practices in elementary, junior high, and senior high schools in collaboration with local communities and focusing on the relationship between external personnel involved in learning and children as learners, we sought to clarify what kind of learning tasks should be set and developed by the class instructors to encourage children's thinking. The unique feature of this study is that it created an environment where teachers from different types of schools and NPOs outside of schools can exchange opinions on how social studies education and sovereignty education should be conducted and think about how classes should be designed for deep learning.

Research Attraction
The appeal of collaboration and cooperation with the local community is the ability to connect with a wide variety of people. It can be said that "connections with people = karma" is an asset in life.
For example, my laboratory is conducting a sovereignty education program in cooperation with the Uwajima Municipal Central Community Center, and disaster prevention education classes in cooperation with the Reconstruction Support Office of Seiyo City and Nomura Elementary School. In the process of creating classes, I have come to know many people involved in community development and other activities. As our circle of connections with people from various walks of life expands, we are able to discover the unique charms of the area. In addition, we can provide children with deep learning through classroom practices that utilize these attractions as teaching materials. Learning that both teachers and children can enjoy is the kind of class creation that emphasizes cooperation and collaboration with the local community.
Future Outlook
In the future, we would like to develop a teaching model that makes use of the results of this research and consider how the university curriculum should be designed to nurture teachers who can utilize the resources of the local community. To this end, we would like to design a teacher training curriculum that allows students who wish to teach to "learn while having fun," for example, by enhancing learning opportunities to use what they have learned as teaching materials through contact with people in the local community.
Message to those who are interested in this research
When I spoke with someone involved in student volunteer work a few years ago, he said, "Teachers are artists!" she said to me. What image do you have of the profession of artist? I have the image of an artist as a uniquely cool profession that creates things that inspire and encourage people. If we view teachers as artists, then teachers are professionals who can nurture in children the skills they need to be sovereign citizens through the lessons they design. In other words, lesson design is a cool professional activity that only teachers can do. If you are interested in becoming a professional teacher, we invite you to join us in this study.