VIONI DEROSYA, UGAS student, won the Best Paper Awards at international conference [International Postgraduate Conference for Energy Research 2022 ]held online in Malaysia on December 19, 2022.
The title of paper was "One-pot Conversion of Sago Pith Waste (SPW) into 5-Hydroxymethyl Furfural (HMF)"
Comment from VIONI DEROSYA:
I am honored to be receiving the best paper award. I am earnestly grateful for the recognition I have received for my work. Every other participant was as capable, if not more, of winning this award. The participants were researchers, Post Graduates, and Ph.D. students from the UK, Japan, Indonesia, and Malaysia.
I would like to mention Professor Kawashima, my supervisor, for supervising my research and writing this article.
We reported our research on making 5-hydroxymethyl furfural, an alternative intermediate material in the plastic, fuel, and chemical industry from sago pith waste. The waste came from sago starch industry. The process included starch hydrolysis, glucose isomerization, and fructose dehydration in a one-pot system. I hope my research can give added value to sago pith waste (SPW).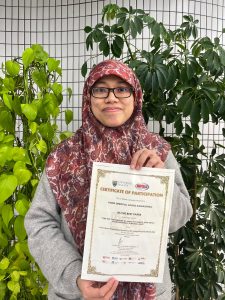 <The United Graduate School of Agricultural Sciences>