The Entrance Ceremony of the United Graduate School of Agricultural Sciences, Ehime University (UGAS-EU) was held on Friday, October 13, 2023. In attendance were the Deans of Ehime University, Kagawa University, and Kochi University, as well as the academic supervisors and others. Nine students, including eight international students (6 from Indonesia, 1 from Myanmar, 1 from the Republic of Mali) were admitted.
At the ceremony, the Dean of UGAS-EU, Professor SUGAHARA Takuya, said: "In the era of globalization, you have a responsibility to be active globally, transcending national boundaries. Finally, I hope you all establish good relationships with your academic supervisor, advisers, colleagues, and friends. And, the most important point is to enjoy your PhD study that will hopefully lead to a bright future."
Fitriana Dina Rizkina (Ehime University) replied on behalf of the new students: "On behalf of all the new students, I would like to express my deepest gratitude to The United Graduate School of Agricultural Sciences, Ehime University for giving us a chance to study in such an excellent research atmosphere. In the future, we will also be committed to contributing to our beloved countries' development by applying all the acquired knowledge and good values we absorb from Japan."
After the ceremony, a commemorative photo was taken with all the participants. Under a crisp, clear autumn sky, the hopeful expressions on the faces of the new students showed their expectations for their future student life.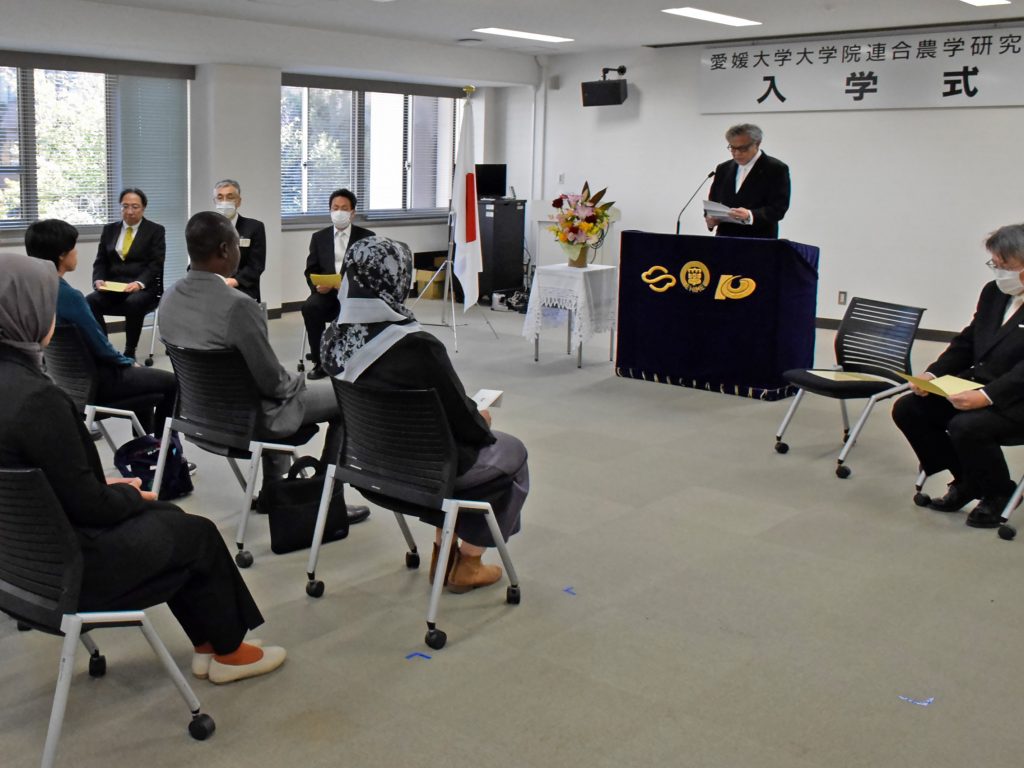 <The United Graduate School of Agricultural Sciences, Ehime University>