On Monday, March 14, 2022, the degree ceremony for The United Graduate School of Agricultural Sciences, Ehime University was held with eleven graduates and related persons in the TV conference rooms at Ehime, Kagawa, and Kochi Universities. One graduate who couldn't come to the university due to Covid-19 attended the ceremony online.
At the ceremony, doctoral degrees were conferred on 15 students, including 6 international students (3 from Thailand, 2 from Bangladesh, and 1 from Turkey) and 2 doctoral degrees by dissertation.
After the degree certificates and commemorative medals were presented, the President of Kochi University, SAKURAI Katsutoshi, addressed the graduates, encouraging them with these words:
"Research is a series of failures. There are many reasons for failure: lack of study, poor experimental design, unexpected results, simple human error. In particular, the coronavirus disaster was probably the biggest and strongest barrier. However, your struggle to break through this barrier will be your greatest treasure for the rest of your lives. Today, after this ceremony, take a deep breath, open your eyes, and take a new step forward as a full-fledged researcher." 
The day of the ceremony was blessed with great weather, and the graduates were smiling broadly for the commemorative photograph. Afterwards, friends and current students came to congratulate them and share their joy.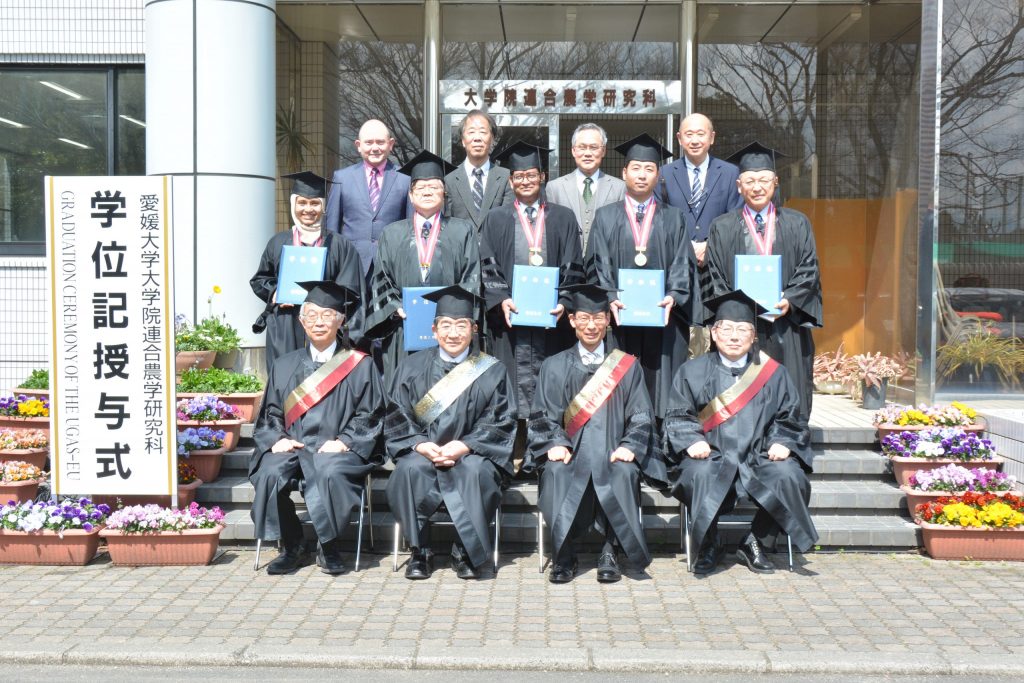 <The United Graduate School of Agricultural Sciences (UGAS)>